Don't let this happen to your film...
Northeast Historic Film offers rental space in the Conservation Center for long-term preservation storage of motion picture film, videotape, and still photographic materials.
NHF offers space to universities, archives, businesses, nonprofit organizations, and individuals. Call us at 1-800-639-1636 to discuss space options and for instructions on preparing your film for storage.
"The combined effect of lowered temperatures and lowered humidity in retarding both vinegar syndrome and color fading is startling and increasingly well documented. The one encouraging finding about these deterioration processes is how significantly both can be slowed by the right storage condition."

Film Preservation – A Report from The Librarian of Congress
Without carefully controlled storage conditions your film collection may be deteriorating ten times faster than it should. More than 60% of all film collections held by institutions are at room temperature, and most have uncontrolled humidity. Does this sound familiar? In such conditions fresh film can start to exhibit signs of "vinegar syndrome" and color fading in 25 to 40 years. Quite a while, but when did your collection's clock start ticking? Once the signs of vinegar syndrome are there, it only takes 4 to 5 years for the acid to double. 
At Northeast Historic Film we offer you the chance to store your film under optimal conditions. At 45 degrees Fahrenheit and 25% relative humidity, you've bought 500 years for fresh film and around 130 for acid to double. Add to that special filtering and fire suppression systems and maybe off-site storage starts to make sense.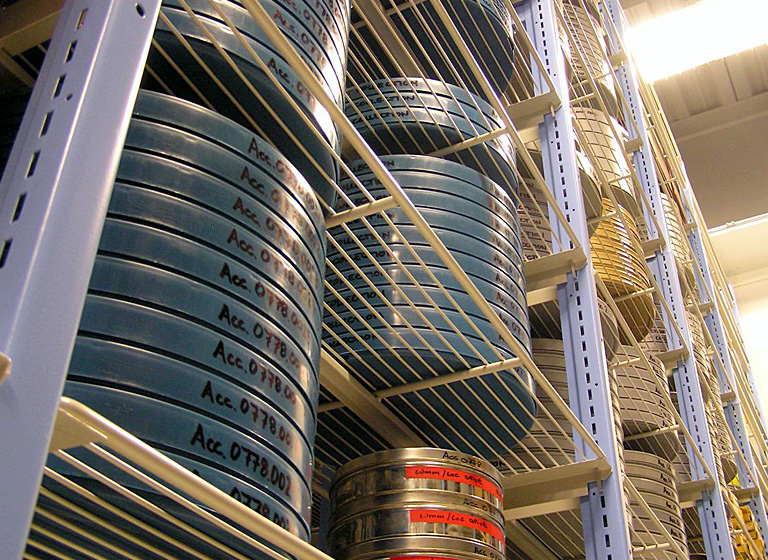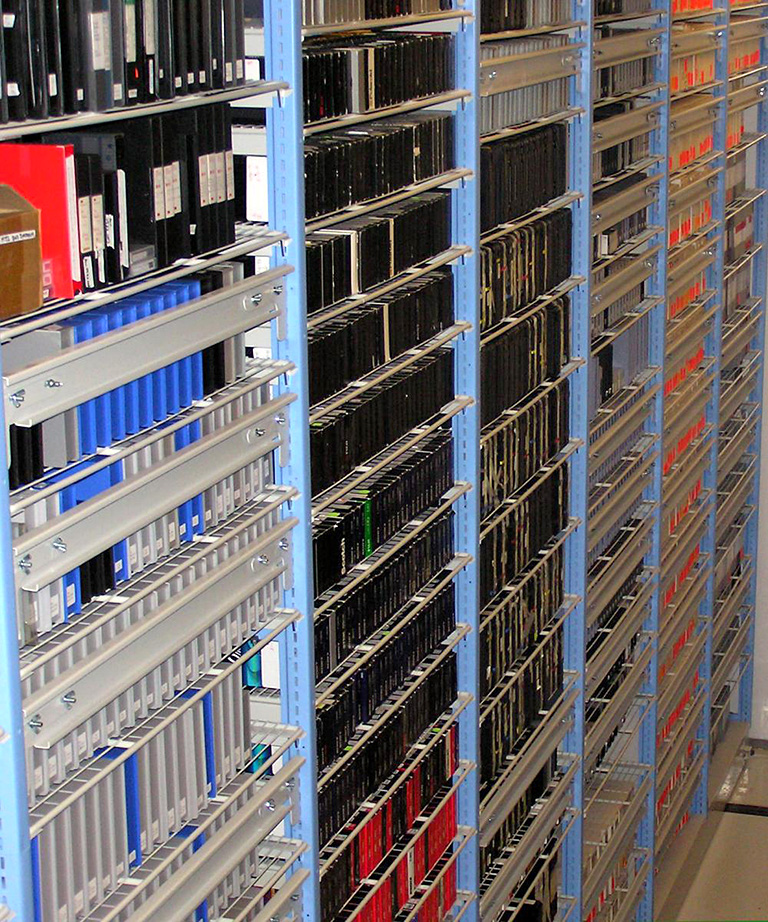 And it is just as important for video:
"Proper storage is the single most important factor for preventing media decay throughout large collections. Providing cooler and drier storage conditions would increase the life span of tape collections while they await transfer."
Film Preservation – A Report from The Librarian of Congress
Videotape's life expectancy is estimated to be between 10 and 60 years (we've also seen estimates of 8 to 12 and 10 to 20 years) depending on the type of tape and its storage conditions.  At NHF we agree with the Image Permanence Institute's assessment, and recommend storing video under stable, cool, and dry conditions.
In addition, a copying program should be planned before you add format obsolescence to your woes. Check our Moving Image Transfers section to see which formats we copy.

Here at NHF we already store the collections of many archives, universities, artists, historical societies, museums, businesses, and individuals. If our standard services (48 hours notice for retrievals, box level tracking, etc.) do not entirely meet your needs, talk to us about developing something special that does. For example, a number of clients have asked for:
Preservation assessments
Reformatting
Cataloging and database creation
Digitizing with FTP delivery
Please send a message if you have any questions or would like more information about our storage services and rates.
---
Archival Services
Our technical staff will aid you in designing a preservation plan. We also offer a variety of archival services including inspection, repair, image scans, and cataloging.
---
Resources
Offsite storage of media materials allows you to focus on your users and access rather than devoting personnel resources to long-term preservation.
---
Vault Features
Tracking
The location of your materials is tracked using a dedicated database.
Air Filtration
HEPA filters are used to prevent a buildup of acetic acid and other gases. Charcoal filtration is used to stop particulate matter and pollutants from entering the vault.
Fire Suppression
The vaults are equipped with an Inergen fire suppression system that is fast, effective, and not harmful to the environment. It is not water-based and will not damage collections if discharged.
Flood Protection
The building is located outside the 100-year floodplain and has been designed and constructed to withstand any conceivable flooding and water problems. Water and vapor barriers are installed under the floors and walls, and drainage pipes do not run near collection storage areas.
Security
Access to the vault is restricted to selected NHF staff members. Doors are equipped with security alarms and are locked at all times. Vault security is enhanced by its location in a quiet, rural area.
The Conservation Center is located at Northeast Historic Film in Bucksport, Maine, 30 minutes from Bangor International Airport and two hours up the coast from Portland.
Completed in 2003, the Conservation Center ("The Cube") contains three temperature- and humidity-controlled floors, a conditioning room, and a technical services area for archival treatment.
Two floors offer storage for film and video materials at 45 degrees Fahrenheit and 25% Relative Humidity. A third floor provides separate storage for films suffering from Vinegar Syndrome. Conditions are regularly monitored using the Image Permanence Institute's Preservation Environment Monitors (PEM). Films suffering from advanced Vinegar Syndrome can be stored in frozen condition, halting any further deterioration under these conditions. Northeast Historic Film also offers a variety of archival services to our storage clients. Contact us to discuss inspection, repair, scanning images, cataloging content, or designing a preservation plan. Estimates will be provided at no cost and with no obligation.