The Alamo Theatre is available for your special event or meeting.
The Alamo has been rented for film screenings, concerts, weddings, bar mitzvahs, board meetings, and public hearings. We have tons of tables and chairs and have successfully hosted 50 for a sit-down luncheon. The lobby is a great meeting or break-out space and we are handicap accessible. Prices are listed below.

For additional information: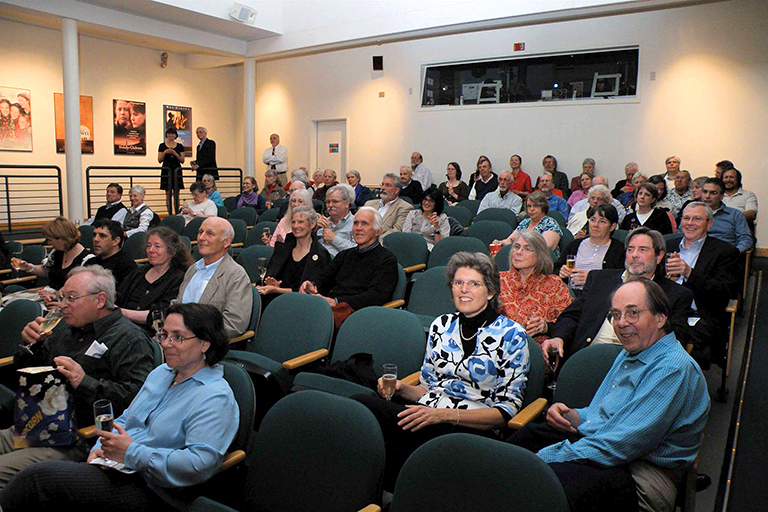 ---
Base Packages:
Private Meeting: $200



Up to three hours of auditorium & lobby time


Electricity, heat/air conditioning

Basic house & stage lighting

Podium with microphone

One 8′ table on stage with microphone

Tables and chairs in auditorium & lobby if needed

Video projection for computer presentation

Seating for 125
Private Party: $225



Up to three hours of auditorium & lobby time
Refrigeration for food brought in
Tables and chairs in the lobby
FREE popcorn for your guests (One small each.)
Video projection for the Blu-ray or DVD you provide. (Please drop off at least two days before for compatibility check. If streaming, please share your login and password in advance.)
Electricity, heat/air conditioning
Seating for 123 in auditorium
Your special message on one frame of the marquee the week of your event.
Please note: This is a "PRIVATE" event. By invitation only. You are NOT to name the movie in any way shape or form publicly. Not on your socials. NOWHERE.
Personal Event: $250 (packages start at)
(Wedding, Party, Reception, Anniversary, Bar Mitzvah ect.)
email us to make your special event perfect.
Seating for 125 in auditorium plus unique lobby space in our 1916 theatre building
Public Screening/Gathering/Meeting: $300
(Film or live streaming presentation.) All copyright, leasing and clearances handled and paid by you in advance. (WE WILL NOT SCREEN ANYTHING TO THE PUBLIC THAT HAS NOT BEEN CLEARED. We are a licensed motion picture exhibitor.)
Up to three hours including presentation and Q & A
Video projection for the DCP, Blu-ray or live stream that you arrange for. (Please drop off hard media or login and password at least two days in advance)
Concessions with attendant and beer & wine available if appropriate
140 seats with supplementary chairs
Event/Welcome/Movie title, time & date on one frame of the marquee for the week of your event.
---
Live Stage Show: $500
(Fundraiser, music, play, comedy, etc.)
Up to six hours of auditorium and lobby time
125 seat auditorium
Concessions with attendant
Sound Check
Sound Board: Mackie BLZ SR24-44 eq knobs per channel
Stage monitors: 2 JBL, 2 Bose 802
Boom stands (6)
Microphones: 4 shure 58, 1 Sure Beta, 2 AT813a, 2 Beyer Dynamic TG-X21, 1 EV 684a
Electrical Outlets: Four 20amp duplex circuits on stage
Direct Box: two
Speakers: Two EAW mounted over stage
Tables and chairs in lobby
Marquee: one frame for the week of the event
Basic green room with table and chairs, small fridge, clothes rack and direct access to stage and parking lot.
Extras/Add-ons:

Extra rehearsal or set up time $25/hour or $35/hour with technician/projectionist
Add extra time to a package: add $50/hour

DCP/Video projector: $35/hour with technician
Laptop Computer Rental $20
Film rental: $250 and up
Tickets sold at the door by us (Cash/Credit/Debit cards or checks) $25
Ticket design & printing: $100
Popcorn for all your guests: $25
Tablecloths $2
Extra Tables (6′ or 8′) $3
The entire marquee the day of your event $50
---
The Alamo has a liquor license for wine and malt beverages.  No alcohol may be brought in from the outside.  We can work with you on what your guests will like although we stock a variety of whites, reds, and macro and micro brews.
A basic kitchen with countertop, range, oven, sink, and refrigerator is available. The lobby area may be used for food service.

A show scheduled to start or finish after 5pm on Friday or Saturday or 12:30pm on Sunday: $1000.
Northeast Historic Film reserves the right to reject potential rentals or date requests that conflict with the running of regular theater business, staffing availability, or construction. NHF also reserves the right to reject any marquee text or publicity materials.